History
The old farm house at Century Acres Angus still stands and serves as our office today.
Percheron horses were the first livestock on land north of Vincent, Iowa after Steve Schmalenberger's great-great grandparents established their home in 1865. One hundred years later the farm was named Century Acres, and Steve's Angus cattle are now the only livestock grazing that flat land.
Steve started in the Angus business when he purchased a purebred steer for a 4-H project in 1957. The steer was chosen as the county fair grand champion, and Steve used its sale money to purchase an Angus heifer. He has continued building on that foundation ever since.
Steve met Nancy at Iowa State University. After both graduated, they married and came to live on the farm to raise Angus cattle and grain crops. Their daughters, Sara and Anne, were born several years later and became the sixth generation to be a part of this heritage.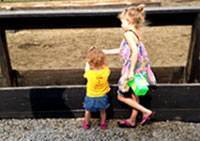 The girls grew up helping with the cattle operation and became very involved with state and national Angus activities. Sara was Miss Iowa Angus, and Anne was Miss American Angus. Working with and showing their cattle around the state and at the National Junior Shows kept them busy until they, too, enrolled at Iowa State. Now both are married and living in central Iowa. Schmalenberger's six grandchildren children visit the farm and really enjoy helping feed cattle and riding on the tractor to get hay bales. One of the young grandsons says "We need hay" whenever he comes.
Schmalenbergers measure part of their success by their returning customers. Steve helps them market animals and keeps their needs in mind when he is selecting A.I. sires to use on his own herd. Warm, generous hospitality awaits all visitors to Century Acres.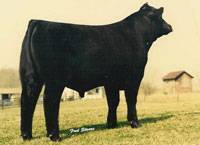 Century Touchstone 131
In their quest to strive for excellence, the Schmalenbergers have had many show ring awards through the years. Their entries at the Iowa Beef Expo won nine grand champion honors as well as many other banners. They are also proud to have raised several Pathfinder Cows, and both a Grand Champion Female and a Supreme Champion 4-H Heifer at the Iowa State Fair. Along with their many other awards sit three Iowa Bull of the Year and five Iowa Heifer of the Year trophies. A milestone in their cattle operation was the birth of Century Touchstone 131 at Century Acres. Touchstone was a very popular bull that went on to be recognized as a Pathfinder Sire several years and a Roll of Victory award winner.
More than fifty years of Angus production has been a positive component of Century Acres and the lives of the Schmalenbergers as they preserve the land and heritage for all those who follow.